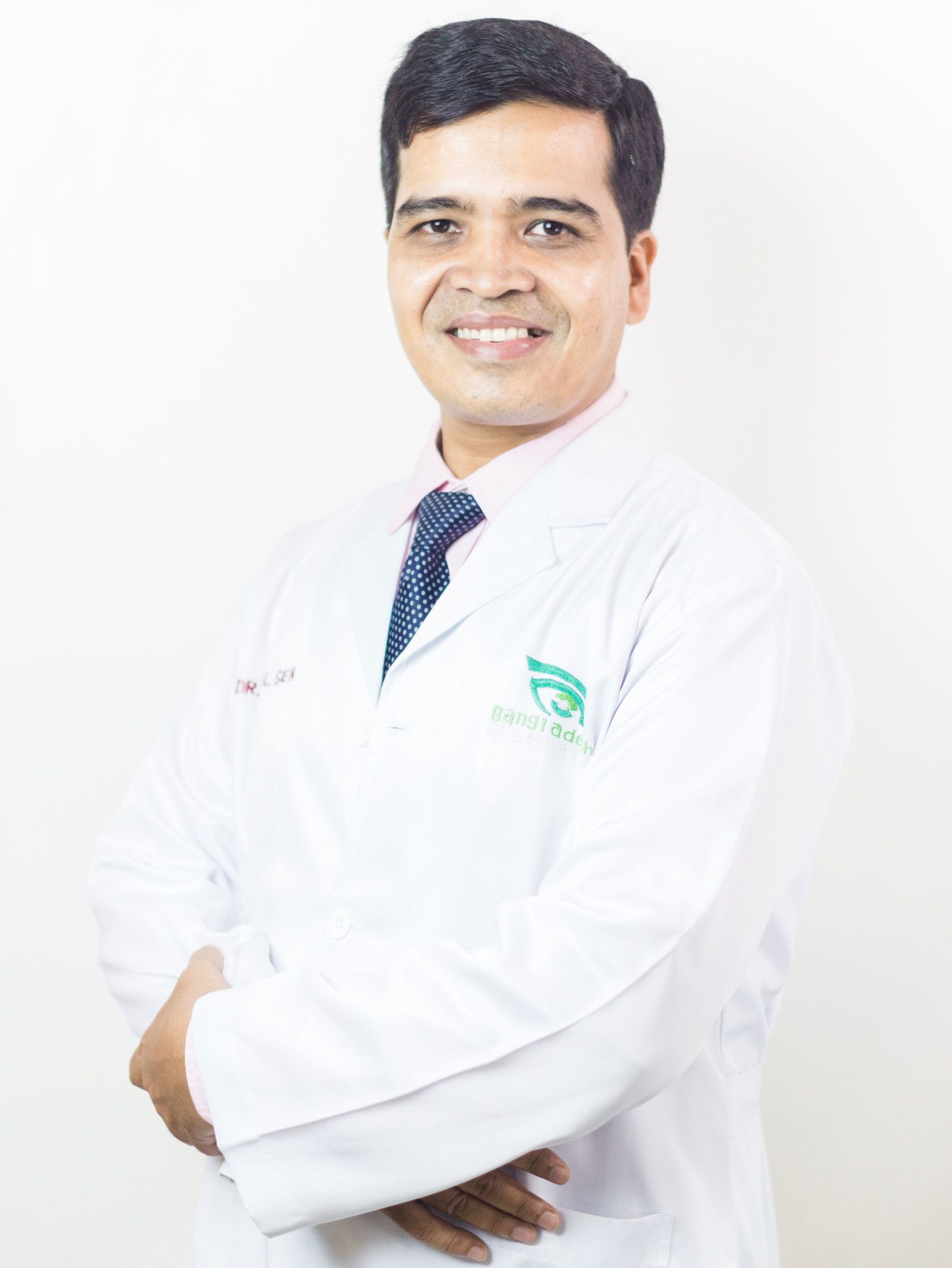 Fellowship in Pediatric Ophthalmology and Strabismus (The John Hopkins University, USA)
Trained in LOW VISION from Hong Kong Society for Blindness (HKSB, Hong Kong)
Trained in Medical Glaucoma from SUSRUT Eye Hospital & Research center (INDIA)
Dr. Utpal Sen, currently working as a Consultant ophthalmologist of Government of Bangladesh and Consultant of Pediatric ophthalmology & Strabismus of Bangladesh Eye Hospital & institute, Chittagong Branch. He completed his MBBS from Sylhet M.A.G. Osmani Medical College of Bangladesh in 2002. He obtained his Fellowship in Ophthalmology (FCPS) in the year 2014 from Bangladesh College of Physician and Surgeons (BCPS). Before this he also achieved Membership (MCPS) in 2013 from BCPS.
Dr. Utpal Sen trained in LOW VISION from Hong Kong Society for Blindness (HKSB), Hong Kong as a National Focal Person (NFP) in 2013. He has done post- graduate fellowship in Pediatric Ophthalmology & Strabismus at Wilmer Eye Institute of The John Hopkins University, USA in 2014.In The John Hopkins he had the opportunity to work under Prof Micheal X Repka MD for pediatric Ophthalmology and Prof. David L Guyton MD for Strabismus. Dr. Sen also trained in Medical Glaucoma from SUSRUT Eye Hospital & Research center (INDIA) in 2016. For Cataract IOL Microsurgery and Phaco he did training at National Institute of Ophthalmology & hospital (NIO&H) and Bangladesh Eye trust Hospital, Dhaka.
Previously Dr. Sen working as a registrar in National Institute of Ophthalmology and Hospital (NIO&H), Dhaka, Bangladesh, the apex ophthalmology institute of the country. He has also completed his residency training from this institution and working as consultant of Pediatric Ophthalmology & strabismus of NIO&H. He was related to many academic and research activities. He has 2 peer reviewed articles published in international journals and more than 10 articles published in national Journals.
Dr. Utpal Sen has experience of presenting scientific papers in many national and international conferences including 2nd International meeting of WSPOS in Barcelona, Spain, 2015. He has lots of experience of Ophthalmology related voluntary works including outreach eye camp for screening of cataract patients, Pediatric blindness survey , school sightseeing program etc. He was past president of Sandhani (SOMC unit) and central advisor of Sandhani National Eye Donation Society (SNEDS). He was ex- executive member of Lions club of Lalbag, Dhaka. Dr. Sen is now member of WSPOS (World Society of Pediatric Ophthalmology & Strabismus).
Dr. Utpal Sen has lots of experience of management of pediatric eye disease & Strabismus. He has special interest about Refractive error, Strabismus (both adult& child), Retinopathy of Prematurity, lazy eye, eye problem in Neuro –developmental disorder, Cataract and low vision.
For Referral Doctors
If you are interesting in referring a patient to us, you can place your trust in our team to take care of your patients with the same excellent quality of care that you do.